Join us Sunday October 6th at 7 pm in the Salmo Valley Youth Community Centre for a movie might.
We will be showing the documentary 'Life Cycles' .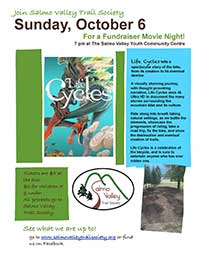 Tickets are $5 at the door ($2 for children under 5).
Life Cycles tells a
spectacular story of the bike,
from its creation to its eventual
demise.
A visually stunning journey,
with thought provoking
narration, Life Cycles uses 4k
Ultra HD to document the many
stories surrounding the
mountain bike and its culture.
The movie is approximately one hour long.
See you there!