Delaurentiis Bluffs Lookout
The Delaurentiis Bluffs hiking network consists of a loop and an 'out & back' to a lookout.
The loop is 1.5km long with ~140m elevation gain. This is rated intermediate because of some challenging footing and climbing grades. There are several good viewpoints along the way.
The lookout trail is 2 km one way with 500 m elevation gain. This is rated advanced because of the loose rocky trail tread through the scree slopes and steep terrain. You will get great views up and down all of the surrounding valleys from several vantage points. A further 1.2 km loop is planned for 2020. This section is marked in Green on the map and is closed until later this summer when complete.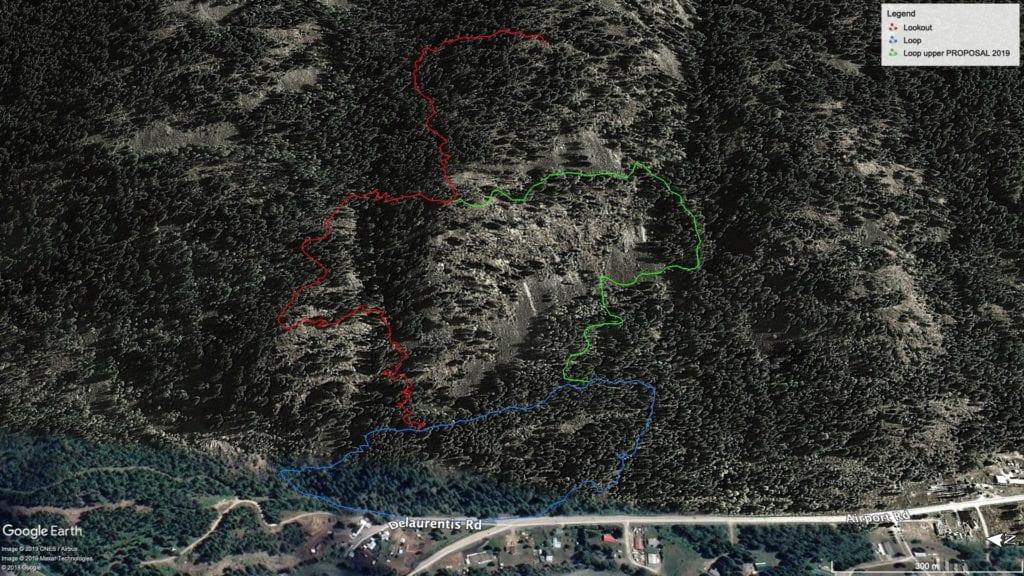 Out of respect for our neighbors and safety, please keep dogs on leash in the parking area, along Airport and Delaurentiis roads and along the dirt road section of the trail (yellow area on map).
Please keep the trail pleasant for all and clean up after your dog.
There are frequent wildlife sightings in this area including bear and cougar. Make lots of noise, watch for sign and travel in groups.
No rock rolling at any point along the trail! Residents, hikers and the road are below.
Be aware of potential overhead rock hazards, especially in the scree slope on the lookout trail. Keep your ears open for rumbling noises.
Rocky sections are slippery when wet. Use caution.