Sheep Creek Forest Service Road (FSR) provides access to three hikes, each going to a subalpine lake in a different drainage. The hikes are of varying difficulty.
From north to south they are Panther Lake, Curtis Lake and Waldie (Wulf) Lake. The BC Backroad Mapbook provides accurate road descriptions to each of the lakes. For Panther and Curtis stay left at the Sheep-Waldie FSR fork. For Waldie, go right at
Sheep-Waldie FSR fork. The distances for all of the hikes are approximate.  All of the
lakes have fish.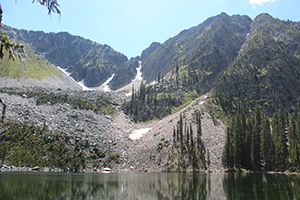 The hike into Panther Lake is approximately 4km long. The first 1km is on old mining and skid road. There are several creek crossings with no bridges in place at this time so be cautious in the early season when water is high. The remaining 3km is single track and easy to follow. For experienced hikers ridge walks and scrambles can be accessed to the north and south.

The Curtis Lake route is not well maintained presently. It is an overgrown quad trail on an old road. The lake is very beautiful when you arrive, again with access to
ridges and peaks, but expect about 3km of alder bashing before the trail gets above
the heavy vegetation. There is no designated parking area the road simply gets to
narrow and grown over to continue.
The access to Waldie Lake, also known locally as Wulf Lake) requires a good high clearance 4wd vehicle. If you do not have this you can walk up the road to the trail
but it is a long haul. The actual trail into Waldie Lake is 4km long with a moderate
grade. A second lake is beyond the main Waldie for those wanting an additional
hike.