Snow is melting, temperatures are warming, spring is here. We just wanted to send out a quick hello to let everyone know we are still here and still working for trails.
We have spent the winter working with the ski hill on a trail proposal. There is still some official paperwork to be completed but everything is moving forward to the start of construction of a multi-use trail to the top of the ski hill. We are excited about this progress to say the least.
Trail construction isn't free though so you will find us at DOT night Monday April 7. Come out to the community centre to support our proposal and all the valleys great organizations. We will also have a table set up selling 2014 memberships.
Stay tuned for details on the first bike park build day at KP park. We have a bit of work to finish up and would love to see you out there. 2nd or 3rd weekend in April are the most likely, we are just sorting out availability of a small machine.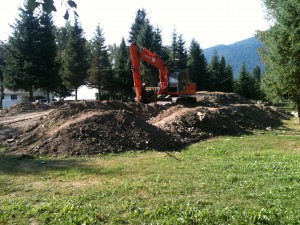 We are trying to pull together a spring bingo fundraiser to help raise the last bit we need to cover insurance costs. We could REALLY use some help with this. If you think you could put in a bit of time seeking prize donations, putting up posters or setting up for an event please let me know.
We will hold our first AGM in early May. This will include nominations and voting for the executive, planning for 2014 activities and general information and discussion.
Thanks for your continued support. See you on the trails.